The Baby Footprint Kit
• Do it yourself, at a time that suits you in the comfort of your own home
• Soft blend of clay, 100% natural, harmless to baby foot
• No mess no fuss, clay washes off baby feet with water
• Have baby footprint kit on hand ready for baby's arrival (airtight packaging keeps clay good for up to 60 days)
• Perfect for baby shower gifts
• Make a special baby christening / naming day ritual or precious baby keepsakes for far away grandparents
• Create your own unique artwork with your baby feet. There's no two the same!
• It's easy and fun. Takes no time at all
• You can't go wrong; mistakes are easily repairable with a little water, then try again
• Baby Footprint Kit comes with easy to follow instructions plus watch our video instructions on How to use your Baby Footprint Kit.
Order your kit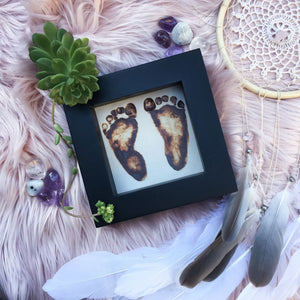 The Finished Baby Footprints Artwork
• Post your finished baby footprint kit to us where the clay tablet is individually finished by hand and framed
• Your baby footprints will be vitrified (turned to stone)
• Vitrified clay tablets are durable, water proof, won't fade and will last through the generations
• Baby Footprints will out last photographs, plaster casts or ink prints on paper
• Beautiful framing and finish will suit any decorating style, from baby's room to Dad's office
• Durable 3D frame is designed to protect precious baby footprints so they aren't likely to chip or break(frame dimensions) frame is suitable for freestanding or wall mounting display
• You will receive your finished baby footprint artwork in the mail complete with engraved plaque on the back of frame with baby's name and birth details.
Choose your style
Choose your Baby Footprint Kit
---